Description
Rage 2 is a first-person shooter game developed by Avalanche Studios, in cooperation with iD Software, and published by Bethesda Softworks. Rage 2 is the sequel to 2010's video game Rage. In Rage 2, the player takes control of Walker, a lone ranger living on post-apocalyptic Earth.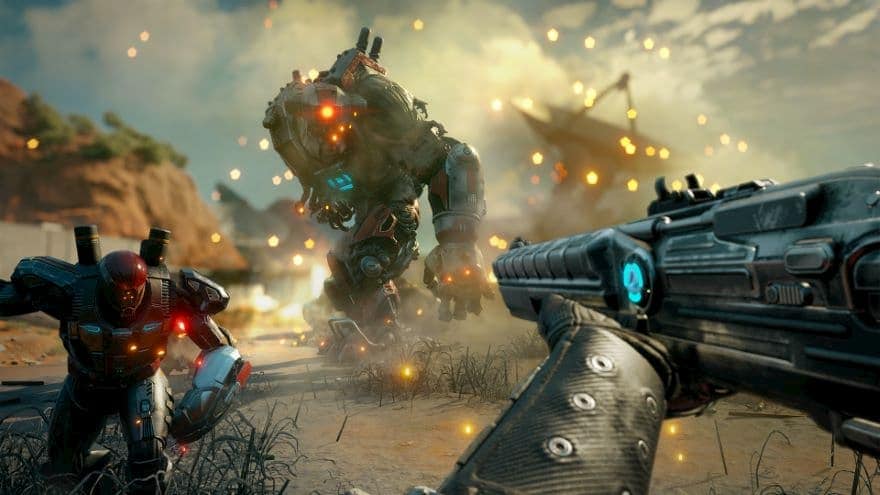 The world as we know it has been destroyed in a cataclysmic event caused by an asteroid impact on the earth. Mankind has become nearly extinct – now only small human factions exist. One of them, the Authority, declares itself as the new leading power. Wastelands, spreading outside human control, has been taken over by dangerous mutants. Walker must navigate the hostile grounds, seeking vengeance against the Authority.
Rage 2 Deluxe Edition (Xbox One) gives you access to:
Base game
Wasteland Wizard's Cheat Codes – activate them to gain new abilities and become the true master of the Wasteland.
Doom BFG – the most popular weapon in history of FPS games will give you a serious edge over your adversaries, turning them into a bloody pulp with just one shot.
Battle Standard – hoist your colors high and let your enemies know who they're dealing with thanks to this special flag.
Progress Booster – become the badass ranger faster with increased energy drops.
Rise of the Ghosts Expansion – enjoy more of the campaign mode with this new expansion pack. (Available by 12.31.2019)
Gameplay
Rage 2 is a first-person shooter video game, where players can freely travel across the open-world environment. The main character of the game, ranger Walker, can be customized to some extent. Players can decide on the protagonist's gender, skills and clothing. Walker can utilize many items and firearms in their quest for survival. One of the basic tools of the ranger is the wingstick, which works like a boomerang. 
When thrown at the enemies it is able to take down most of them with one hit, before returning to the player. Wingstick is able to track locked-on enemies, so even if the player misses, the weapon will still take down the adversary on its way back.Walker's skills, such as his combat efficiency, can be developed by the use of Nanotrites. When enough energy is collected, the protagonist enters the Overdrive mode, in which they can deal more damage with guns and are constantly healed.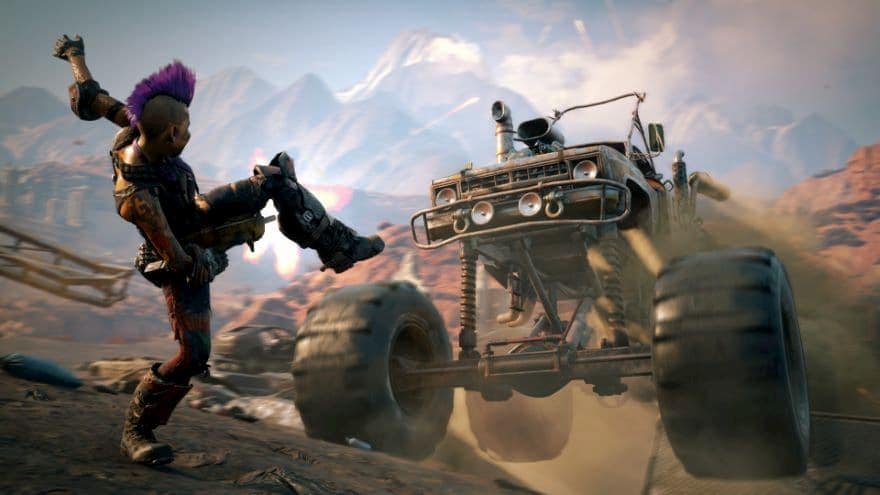 The Overdrive mode affects the enemies too, making them drop more energy.Vehicle combat returns in Rage 2. While roaming the desert wasteland in one of several vehicles, the player will have to fend off attacking enemies, using both handheld arsenal and weapons mounted on their ride, such as rocket launchers or miniguns. Vehicle combat has its own set of quick use items that can restore damaged shield or armor.Another opportunity for players to be able to put their driving skills to the test is racing. On the Torn Plains Racetrack, the player will face not only other racers but also dangers and traps on the path of the race. Races can also be initiated while traveling through the wasteland.
If you're a fan of the Borderlands style of post-apocalyptic mayhem, then Rage 2 is a game you should keep an eye on.