Description
PlayStation Plus is a subscription-based service provided by Sony to enhance the experience related to your Sony Entertainment Network account. It allows you to access dozens of games free of charge and it offers member-exclusive discounts to buy certain titles for a lower price, and it features the capacious cloud storage to conveniently keep all your save files in a secure place.
30 days of benefits
Join the PS Plus club and take advantage of all the benefits reserved for its subscribers. Extend your subscription by 30 more days with this PlayStation Plus Trial Card. If you are happy with delivered services, you may later extend the subscription for even longer periods of time.
Monthly Plus Games
Each month Sony reveals two new paid titles that become available for PlayStation Plus members to download and play for free as long as their subscription is valid. Discover next month's big titles and hop into action without spending a dime.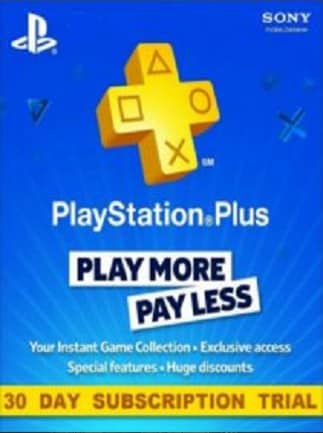 Play Online
PS Plus subscription enables you to play online with both friends and strangers alike. Multiply the fun by joining the multiplayer mode in the latest and most popular games available on your PlayStation system.
Special offers and discounts for members
Enjoy huge discounts reserved for members of PlayStation Plus. Get your favorite titles cheaper than usual. Save money and use it to purchase another game – cheaper games mean you can add more of them to your library.
100 GB of cloud storage
Store your game save files in the cloud and access them from anywhere. Don't risk losing your hard-earned progress – with cloud your saves are securely stored online, so you can continue playing your favorite titles even after replacing the console, getting a new type of PlayStation system (if the game is crossplay-compatible), or when playing on your friend's device. 100 GB of space is more than enough to store files from all the games you enjoy playing.